Environmental Initiatives
Environmental Policy
To pass on our irreplaceable Earth to the next generation, through our corporate activities we will contribute to maintaining people's health and preserving the global environment. As well, we will research and develop technologies that are useful for environmental conservation.
At every stage of the product lifecycle, we will strive to:

reduce greenhouse gas emissions
save energy and resources
practice the 3Rs of waste management and effective disposal.

We recognize the impact of our corporate activities on people's health and the global environment, and will strive to fulfill our roles and responsibilities so that society can have high expectations of us.
We will go all-out to solve environmental issues by sharing this policy with all Group stakeholders (customers, business partners, shareholders, local communities, and employees), and we will work closely with them.
Climate Change Initiatives
We recognize the urgent need to assess the risks and opportunities posed by global warming to our business and formulate long long-term management strategies through scenario analysis. Therefore, we have supported the TCFD, an international framework for climate change change-related information disclosure, and are actively working to enhance information disclosure in accordance with the TCFD recommendations from the perspectives of "governance," "strategy," "risk management," and " metrics and targets".
Click here for disclosed information in accordance with the TCFD recommendations.
Energy Saving Initiatives
In 2010, we established an Energy Conservation Promotion Committee that meets once a month. The committee has set a target of reducing energy use per base unit by 1% or more every year, and is working on energy conservation initiatives based on Japan's Act on the Rational Use of Energy.
The solar power generation system installed at our Home Office's 3rd Factory (located in Sakaki-machi, Nagano Prefecture), which was completed in 2016, provides about 60% of the power used by the plant. Also, a solar power generation system was installed at an extension of the Home Office's 1st Factory (located in Sakaki-machi, Nagano Prefecture), which was completed in 2018, further increasing our supply of electricity using renewable energy. In addition, we are working to reduce power consumption by using LED lighting and automatic controls in our factories. Due to these energy-saving initiatives, Japan's Ministry of Economy, Trade and Industry (METI) performed a Business Classification Evaluation, and we have been certified as an excellent energy-saving business operator (S class) as a result. This was done under a METI program that periodically reports on factories and business sites under the Act on the Rational Use of Energy.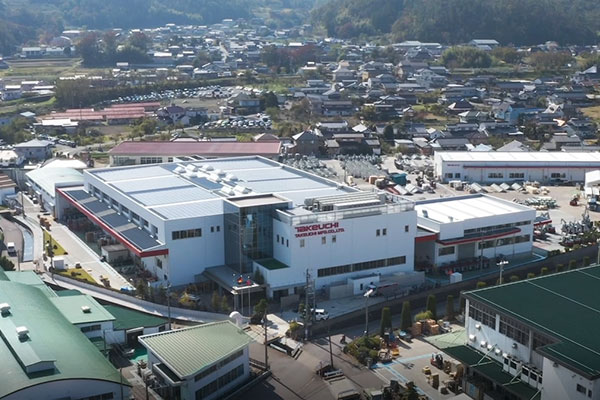 Solar panels are installed on the roof at the Home Office's 3rd Factory.
It produce about 60% of the electricity used by the 3rd factory at Home office.
Organization chart of Energy Conservation Promotion Committee

Initiatives to reduce waste
Recognizing the environmental impact of contaminants in waste, we are working on ways to effectively manage and treat waste that follow all laws and regulations, and we practice the 3Rs (reduce, reuse, and recycle).
Generation of waste (ESG data)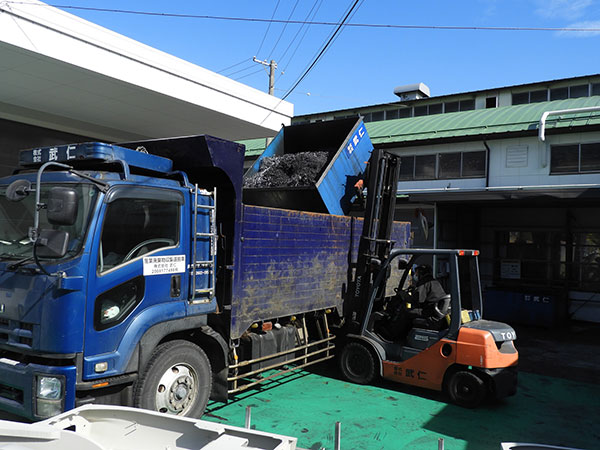 Recycling scrap metals at the Home Office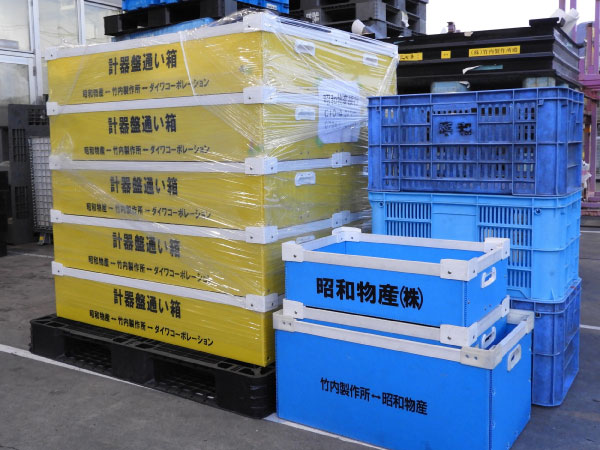 Using returnable boxes for components
Initiatives to Reduce Water Use and Wastewater
Recognizing that water is a finite resource, we comply with laws and regulations and strive to use water appropriately and efficiently. In addition, to reduce our environmental impact, we have installed wastewater treatment systems and are working to properly manage and reduce the amount of water discharged from our plants.
Management of chemical substances
Initiatives at the Home Office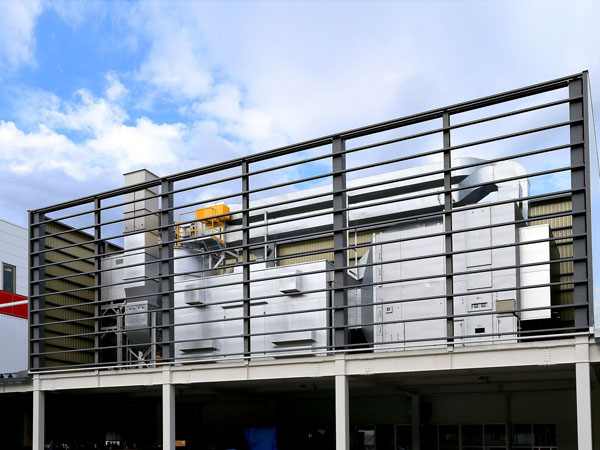 VOC incineration system installed at the Home Office's 3rd Factory
To prevent environmental pollution, we measure all emissions of chemical substances, such as those subject to PRTR regulations, as well as the VOCs used in our factories.
To create products that are environmentally and socially friendly, we have established a management system that complies with all global regulations, including the REACH regulation (the EU's Regulation on Registration, Evaluation, Authorisation and Restriction of Chemicals) and the RoHS (the EU's Restriction of Hazardous Substances) Directive.
Initiatives at our subsidiary in China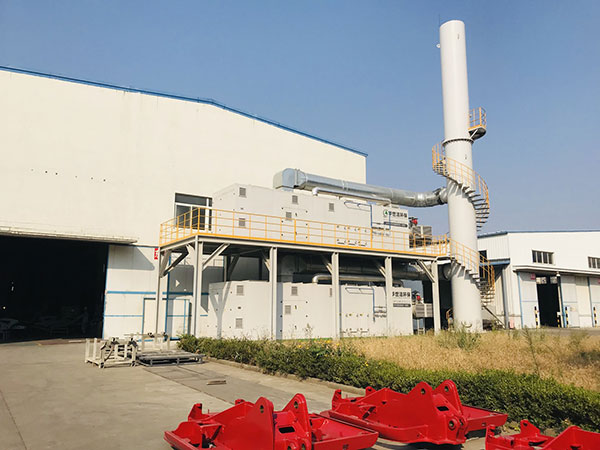 VOC incineration system installed at the Qingdao Factory in China
Takeuchi Qingdao Mfg. Co. Ltd., located in Qingdao, China, is a manufacturing subsidiary of the Takeuchi Group. At the Qingdao Factory, we have installed equipment to comply with local environmental laws and regulations, and have fully implemented all necessary measures.
■Equipment installed and measures implemented at the Qingdao Factory
Installed VOC incineration and welding exhaust systems
Installed an online paint VOC measurement system
Obtained a pollutant emissions permit
Contributing to the environment and society through our products
We have been working on product development that is environmentally friendly and considers operator safety and comfort. We are also developing battery-powered compact excavators that use the kind of electrification technology that is being developed mainly in the automotive industry. By developing, producing, and selling battery-powered compact excavators, emissions and noise are reduced to zero, which we believe will not only contribute to the global environment but also to improving the work environment at construction sites.
The future made possible by Takeuchi: Contributing to the SDGs