Social Initiatives
Quality
Quality Policy
We have established a quality policy to provide products and services that are trusted by our customers, and by working hard in the spirit of Creation, Challenge, and Cooperation under our slogan "From World First to World Leader Takeuchi."
Quality Policy
Our approach to quality assurance
Customer satisfaction

We manufacture high-quality construction equipment that satisfies customers around the world.
We precisely grasp customer needs related to functions and quality in product use and address them quickly.
In the manufacturing process, we always think and act from the customer's perspective.

Environment and safety

In the manufacturing process, we aim to reduce our impact on the global environment by considering energy conservation.
Safety is our first consideration, not only for our customers but also for our employees during the manufacturing process.

Quality control and quality assurance

In addition to maintaining ISO 9001 certification, we actively improve the quality of our corporate activities related to development, receiving orders, procurement, manufacturing, and after-sales service.
We constantly improve our manufacturing processes and increase quality levels, while reducing costs and delivery schedules.
We collect and analyze information on quality when customers use our products, and then use that information to improve product development and the quality of our services.
Obtained ISO 9001 certification
To continually improve our manufacturing processes while reducing cost and raising the level of quality and delivery, we maintain ISO 9001 certification for the design, development, and manufacture of tracked and wheeled excavators and tracked loaders and dumpers.
* Within our product lineup, "excavators" refers to our compact and hydraulic excavators.
Prevention of PL accidents
Since we conduct the entire process from the development of construction machinery to design and manufacturing in-house, we are responsible for product liability (PL) at every stage. Working with the recognition that problems, such as malfunctions, can cost lives, we take the utmost care to create products that do not cause PL-related accidents.
Responsibility to our customers
With our customers: From product development to after-sales service
We gather feedback from our customers through all available means and work together as one, from product development to after-sales service support.
We form teams that visit business partners around the world to gather information directly from the field. Conversely, our business partners also regularly visit us to hold meetings over several days. In this way, we work together to innovate our products and support system, and have frank discussions, leading to better product development and after-sales support.
During the COVID-19 pandemic, we communicated more closely by increasing the number of online discussions because we could not have in-person meetings. In addition, we created a framework that enables faster responses to challenges allowing our business partners and our company to communicate efficiently beyond company boundaries.
In addition to the feedback coming directly from our business partners, data on machine use and condition is relayed by the Takeuchi Fleet Management telematics systems installed in our products, another important form of feedback that shows us how our products are being used.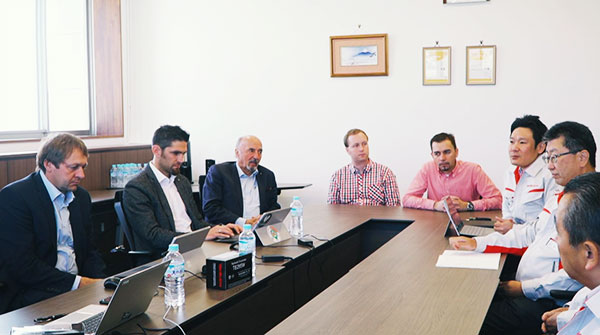 Distributor meetings
As part of our initiative to strengthen after-sales service, we established a European parts center in the Netherlands in March 2021. This center allows us to deliver maintenance parts to more end users in Europe, which is one of our main markets, in a shorter time, minimizing downtime.
We believe that it is our responsibility to our customers to take every request received through these various types of communication and address them sincerely, then engage with the request, solve it, and improve products together with our customers.
CSR Procurement Policy
We provide equipment that contributes to the creation of cities where everyone can live a rich, safe, and fulfilling life. We believe that by providing our products we contribute not only to the development of social infrastructure, but also to environmental conservation and the resolution of social issues in the energy field.
We fulfill our mission as a manufacturer by developing and producing equipment then providing these to our customers, at the same time as we carry out initiatives related to our corporate social responsibility (CSR). When fulfilling our social responsibilities—such as respect for human rights, consideration for health and safety, and compliance with laws and regulations—we are determined to help resolve social issues. We do this not only within our own company but also throughout the supply chain by calling on our business partners (suppliers), who are important stakeholders in our production, to engage in CSR procurement.
We formulated the Takeuchi CSR Procurement Policy to provide a more specific understanding of our thinking on CSR and the issues that we require our suppliers to be aware of. In addition, suppliers who adopt and accept this policy sign and submit a declaration of consent.
Imagining the future and wishing for the happiness of the children who represent the next generation, we want to contribute to the development of society with passion and responsibility for manufacturing. We will disseminate this desire widely to society and promote CSR procurement through our business partnerships.
Takeuchi CSR Procurement Policy
At home and overseas, we open our doors wide, looking worldwide for partners who have distinctive technical strengths and creativity.
We provide opportunities for free and fair competition so that partners will work together with us to improve the quality, safety, and cost of our products and services.
We procure environmentally friendly materials.

In-depth management of hazardous chemical substances
Promote green procurement

By obeying all domestic and international laws, social norms, and corporate ethics, we strive to build relationships of trust through fair and honest transactions in harmony with our basic agreement.

Full compliance with laws and regulations
Respect for human rights, and prohibition of all forms of discrimination, child labor, and forced labor
Maintaining an effective working environment with full consideration for health and safety
Systematic management and protection of information through effective information system security
Complete elimination of unfair conduct, bribery, and other corrupt practices that go against corporate ethics
Agreement collection rate for CSR Procurement Policies (ESG data)
Materials Procurement
We select suppliers from the perspectives of their quality, delivery time, and price to build fair and equitable business relationships.
Technologies we require
Rubber products
Casting, forging
Surface treatment
General commercial products
Metalworking
Machining
Thin-sheet metalworking
Pipe processing
Hydraulic equipment
Heat treatment
Engines
Transaction procedures
| | |
| --- | --- |
| 1.Examination of quotations and specifications | We will examine your specifications against ours and consider factors such as the purchase amount and target price. |
| 2.Request and evaluation of prototypes | We will evaluate prototypes. |
| 3.Negotiation of terms | We will negotiate the details of the terms and conditions of a contract. |
| 4.Conclusion of contract | We will conclude the contract. |
| 5.Order | We will place an order based on the agreed delivery conditions. |
| 6.Transactions | We will request goods to be delivered based on an order form. |
* We will comply with all laws and regulations, such as the Product Liability (PL) Act and the Subcontract Act.
Contact
Please use the Contact Us form. (Send Email To -Takeuchi Japan - Procurement)
Administrative Purchasing Department, Takeuchi Mfg. Co., Ltd.
Contribution to local communities
1. Factory tours for Elementary Schools
| | 2022 |
| --- | --- |
| Number of tours | 5 |
| Number of participants | 312 |
2. Factory tours for High School and University students
| | 2022 |
| --- | --- |
| Number of tours | 2 |
| Number of participants | 60 |
We believe that contributing to local communities is an important role that companies should play. We are active in a range of activities that help develop the next generation in our local communities.
Takeuchi has been accepting factory tours for many years in response to requests from local elementary schools in Nagano Prefecture. In 2022, 312 children took five tours. Another 60 people took two factory tours for high school and university students in the same year. Since 2017, we have been sending staff to deliver lessons to after-school programs in junior high schools and providing educational materials to special needs schools for free every year since 2015.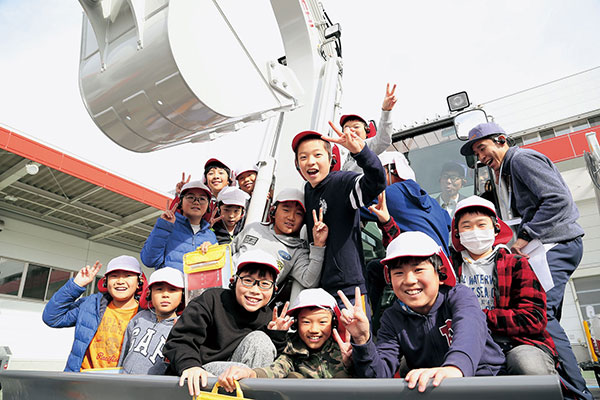 Local Nagano Prefecture elementary school students who participated in a factory tour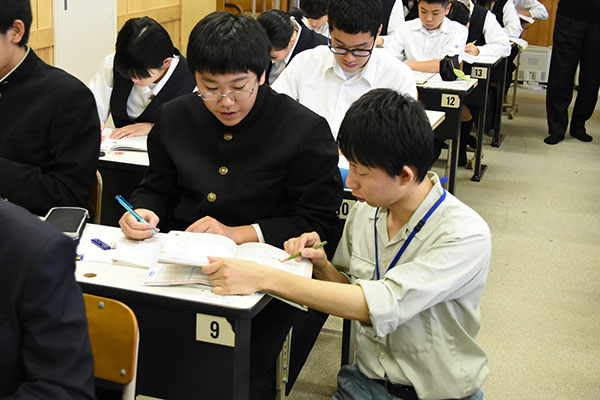 After-school class at Sakaki Junior High School (located in Sakaki-machi, Hanishina-gun, Nagano Prefecture)
Employee Human Rights and Labor Relations
Our basic principles for human rights and labor include respect for people, creating a safe workplace, and harmonious coexistence with the international community. These are stipulated in our Code of Conduct and are reflected in the corporate activities of every employee. Moreover, we recognize the potential impact of all corporate initiatives on human rights, and consider activities that respect the human rights of all people involved in the company as one of our social responsibilities. Accordingly, we have established the following policy.
Human Rights and Labor Policy
Respect for human rights

We respect diverse personalities and individuality, and will strive to actively develop and use talent.
We respect basic human rights and do not allow forced or child labor.

Eliminating discrimination

We will not discriminate in any way based on race, ethnicity, nationality, religion, gender, age, etc.
We will not tolerate any type of harassment in the workplace.

Compliance

We comply with the letter and spirit of the law, and conduct corporate operations mindful of social ethics and good conscience.

Maintaining an environment where employees can work with peace of mind

Based on the principle that "safety takes precedence over everything," we will strive to maintain and improve a safe and healthy work environment.

Harmonious coexistence with the international community

In addition to complying with international rules and local laws, we will respect local cultures and customs, not engage in forced labor or discrimination, and strive to promote safe and healthy work environments.
Promoting greater participation of women
The "respect for people" section in our Code of Conduct states, "Recognizing human resources as our greatest management resource, we will respect diverse individuality and personalities, actively develop and use talent, and strive to create vibrant and enjoyable workplaces filled with the willingness to take on new challenges."
To create an environment where diverse human resources can work easily and comfortably, we will consider a range of measures as well as improve the work environment with a view to promoting greater participation of women in accordance with the Act on Promotion of Women's Participation and Advancement in the Workplace. At the 2022 AGM on May 25, 2023, a female Director was elected.
Appointment to positions (Takeuchi Mfg. Co., Ltd., consolidated) (ESG data)
Promotion of local recruitment
In line with the basic concept of respecting the ideas and perspectives of diverse employees, we actively recruit employees in the countries where our subsidiaries are located and promote local employees to management positions according to their abilities and performance.
Ratio of local staff in management positions in subsidiaries (ESG data)
Internal and external whistleblower systems
To detect and deal with compliance violations at an early stage, we have established internal and external whistleblower systems (hotlines). The internal hotline is managed by the General Affairs Department, and the external hotline is established at a lawyer's office. The hotlines are available to our officers and all employees, and reports are accepted by phone, letter, email, etc. We investigate all reports and check all the facts. If compliance violations are found, we correct the violations to prevent a reoccurrence. In addition, violators may be subject to penalty based on our employment regulations and rules for rewards and punishments.
We make the hotlines known to all employees by setting up internal whistleblowing regulations, issuing an employee handbook, a compliance manual and internal notices, and in other ways. At subsidiaries, we have set up internal whistleblower systems and put in place a system where directors report to the Board of Directors and the Audit and Supervisory Committee (or its members) through the compliance officer in the event of a serious compliance problem.
To encourage people to seek consultations and make reports, we clearly state in our internal whistleblowing regulations and compliance manual that employees who make legitimate whistleblowing reports under this system will not suffer any consequences.
Employee interviews
During internal audits by the Audit Office, in addition to ordinary business audits, employees at every workplace are interviewed about the workplace, including whether there is any misconduct or harassment, and about the employees themselves, such as overwork and overtime. This is done for the company to obtain information rather than simply waiting for employees to make whistleblower reports. The interviews take place at Takeuchi Mfg. (nonconsolidated) and subsidiaries, and the audit reports that include the results of the interviews are sent to the Board of Directors by the manager of the Audit Office.
Work-life balance
We hold annual dialogues with employee representatives regarding labor practices, including reaching agreements on overtime and work on holidays. We also strive to understand and manage the working hours of all employees, including by managing timecards and PC logs to check whether there is a discrepancy between time records and actual attendance. We also encourage people to take planned paid leave.
In addition, to balance work with life events, such as childbirth, childcare, and nursing care, employees are able to choose from a variety of workstyles, including childcare and nursing care leave and planned annual leave. At Takeuchi Mfg. (nonconsolidated), the return rate of employees who take childcare leave is 100%.
Prevention of harassment
We do not tolerate harassment in any form, including sexual or psychological harassment and abuse of authority. We do not tolerate any harassment or any acts that harm the dignity of individuals, and we strive to create a vibrant and enjoyable workplace.
Employee Health and Safety
Health and Safety Policy
We aim to be a company trusted by society by preventing occupational accidents for all employees and other people involved in our workplaces through creating a safe and comfortable work environment and promoting employee health.
Principles of Conduct
We will actively promote health and safety with the goal of eliminating injuries and accidents by maintaining clear awareness that "health and safety take precedence over everything."
We will comply with all legislation and company rules related to health and safety, and strive for better health and safety management.
We will conduct risk assessments that clarify hazards in the workplace and prioritize countermeasures, and advance the creation of safe and comfortable workplaces, moving from "zero injuries" to "zero hazards."
In addition to preventing health problems caused by overwork and mental health issues, we will strengthen our health management system and work to improve the health of employees.
We will strive to raise awareness of health and safety through employee education and internal communication.
When carrying out health and safety programs, we will fully invest our management resources and continually make improvements.
Health and safety system
Our health and safety management system includes a general safety and health manager, safety officers, health officers, health and safety committee members, health and safety promoters, and an industrial physician. As well, we regularly conduct random safety audits and hold health and safety committee meetings at least once a month.
Organization chart of Health and Safety Committee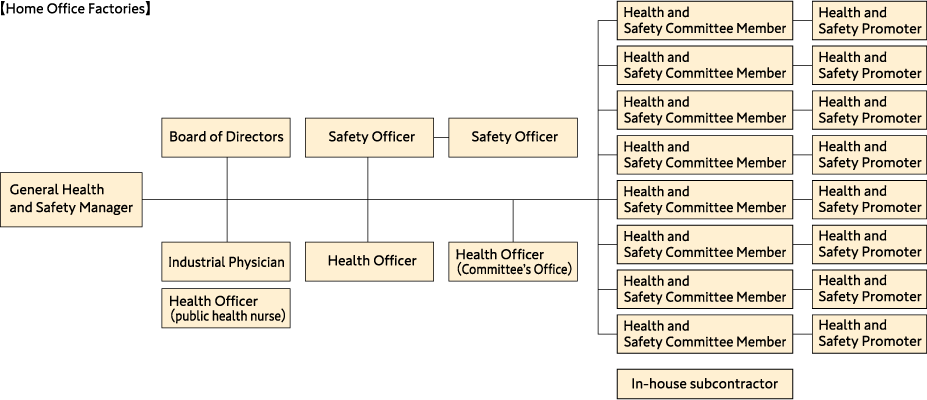 Risk assessment
We conduct risk assessments of chemical substances and work practices in accordance with our health and safety policy. We strive to reduce risk by identifying dangerous or hazardous work based on the degree of the risk (priority), as well as everyday potentially dangerous minor incidents and the results of risk estimates, and we then take appropriate corrective or preventative action.
Takeuchi Health and Productivity Management Declaration
We recognize "respect for people" and "creating a safe workplace," specified in our Code of Conduct, as the basic principles of health and productivity management. This recognition is in keeping with our goal of establishing a workplace environment where every employee can enthusiastically play an active role. To carry out initiatives to achieve this goal, we have formulated the Takeuchi Health and Productivity Management Declaration.
We will work to maintain and improve the health of our employees and their families, believing that the physical and mental health of our employees comes first in order to survive as a company, and in recognition that human resources are our greatest management resource.
We will achieve a better work-life balance by raising health awareness and improving labor productivity through cooperation inside the company, and with industrial physicians, the health insurance association, employees, and their families.
Aiming to eliminate occupational accidents, we will create a safe and comfortable workplace through safety and health initiatives based on effective environmental, work, and health management.
Toshiya Takeuchi
President and Representative Director
TAKEUCHI MFG. CO., LTD.
Organization chart for Management of promotion of health and productivity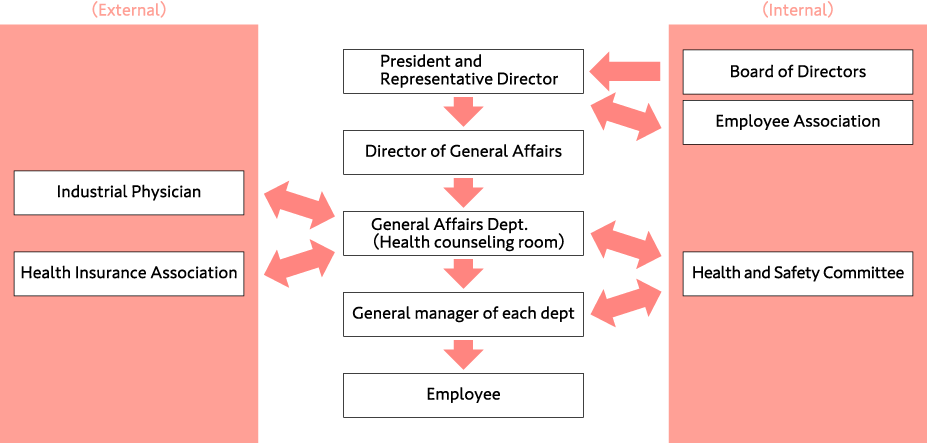 | | |
| --- | --- |
| President and Representative Director | Responsible person, report semi-annually to the Board of Directors Meetings |
| Director of General Affairs | Person responsible for implementation |
| General Affairs Dept. (Health counseling room) | Planning and development of health and productivity management, and dissemination of information to employees |
| General Manager of each dept. | Development of health and productivity management measures, encouragement of medical checkups, etc., and consideration for medical checkups |
| Health and Safety Committee | Receiving opinions and suggestions from employees and exchange of ideas |
| Industrial Physician | Advice on general health and productivity management |
| Health Insurance Association | Provide data, exchange information, discuss and advise on issues |
| Employee Association | Receiving opinions from employees and make suggestions and requests to the company |
Human resource development and education
Our Code of Conduct states, "Recognizing human resources as our greatest management resource, we will respect diverse individuality and personalities, actively develop and use talent, and strive to create vibrant and enjoyable workplaces filled with the willingness to take on new challenges." In line with this code, we conduct training based on employee level, as well as specialized training and departmental training for all employees, from young workers to executives. We believe that when people acquire the knowledge and skills needed for their roles, and when every employee makes the most of their abilities and continues to grow, this leads directly to the sustainable growth of the company.
In addition, as part of creating a bright workplace that respects human rights and is free from discrimination, we have joined the Sakaki-machi Council for the Promotion of Human Rights and Antidiscrimination, and employees are invited to the in-house human rights education promotion training course hosted by the council.
System chart of training by class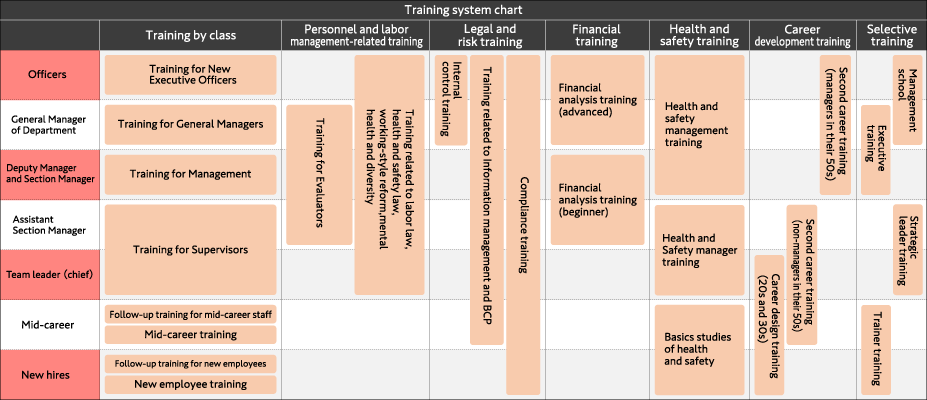 Specialist and departmental training

Employee data