Our Commitment to Sustainability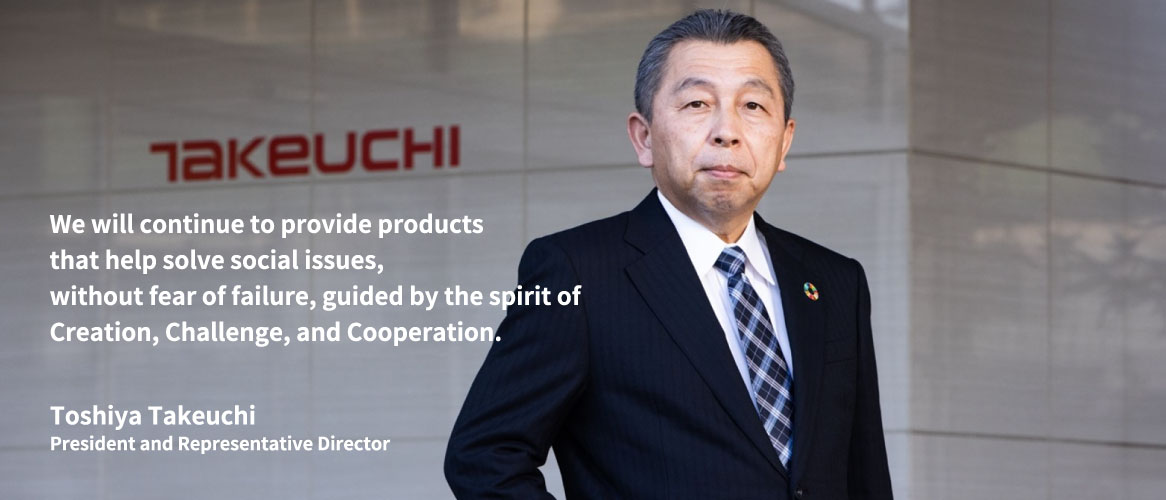 Changes in the business environment surrounding Takeuchi and how we have responded
Since our founding in 1963, there have been various crises, such as the oil crisis and the Lehman shock, and the current novel coronavirus (COVID-19) pandemic has also had a significant impact on our Group's business. More than 95% of the Group's consolidated sales come from Europe and the US, though the pandemic affected all of our sales regions worldwide, including Europe and the US. Nevertheless, while we initially expected a more severe impact, product demand did not fall as much as anticipated and has now started to recover. This is because our products are vital for housing construction and are indispensable for creating social infrastructure (an essential focus of our Group). Also, civil engineering work resumed soon after the outbreak of COVID-19.
Among recent social changes are labor shortages at construction sites in most countries, and we expect that these labor shortages and the lack of skilled construction machinery operators will become problems in the future. This is why we are working on developing machines that can perform some excavations automatically, even without a skilled operator. Another notable change is the shift from diesel engines to electric motors. We believe that, even in the construction machinery market, demand for environmentally friendly and zero-emission products will increase and that the wave of electrification is inevitable. For these reasons, we have been developing battery-powered compact excavators ahead of other companies. In 2009, we developed the world's first lithium-ion battery-powered compact excavator (based on our own research), but back then, the price and specifications did not meet market needs, so we could not yet begin mass production. Now, however, we are looking to finally launch our first mass-produced battery-powered compact excavator by the end of 2021.
I believe that the fact that we have been at the forefront of the drive to address these issues—working on them in the spirit of creation, challenge, and cooperation—is a major driving force for our growth.
The strengths of Takeuchi's business model
What led to us to develop the world's first compact excavator in 1971 were the requests we received from construction companies for work on their sites. The companies said that the excavation work was too physically demanding; it was being carried out using hand tools, and we were asked if we could automate this work. The arrival of compact excavators pleased many people, since construction that used to take a week using manual labor could sometimes be completed in a day. After that, we wondered if compact excavators would satisfy people overseas as well. We initially brought them to the United States, but in that vast country, there was no market for compact excavators, let alone any competition. Still, since compact excavators are suited to detailed work in residential areas, we received many positive responses in the US, and the compact excavator market eventually spread around the world.
In 1986, the compact track loader that we developed—again, for the first time in the world—to transport dirt, sand, debris, snow, etc. came about because we saw that the loaders at that time had tires and were sometimes useless in fields; they would get stuck in mud when it rained. We thought that if we put tracks on the undercarriage, like those on compact excavators, that customers would react favorably.
This spirit of product and market development has been passed down within the Group as our corporate philosophy of "From World First to World Leader Takeuchi." We have focused not on imitating others but instead on bringing our own products to the world.
Among the strengths of our company, what I am most proud of as "typical of Takeuchi" is the speed with which we incorporate customer feedback and requests into our products. If we think an idea is good or that a certain improvement should be made, we start working on it right away. I believe that this adaptability, speedy responsiveness, and agility are Takeuchi's greatest strengths. At Takeuchi, designers go out into the field and directly gather information before developing products. That is why we can create products that delight our customers. I myself go into the field and listen to customers at their sites, and I then do my best to incorporate the perspectives of customers and our designers into management decisions.
Our second strength is the quality of our products. Our customers have high expectations that we will provide tough, durable, long-lasting construction machinery. Whether we can offer some extra added value will be the decisive point in our favor in the future. So far, in addition to durability, we have developed products focused on user-friendliness, comfort, and performance. Going forward, while continuing to develop these strengths, I believe we must refine the performance and environmental aspects in the future with added features, such as automation and electrification.
Achieving the SDGs
To contribute to achieving the UN's Sustainable Development Goals (SDGs), we have prioritized Material Issues based on global social issues and our medium- to long-term growth strategies. We will do our part to help realize a sustainable society and will maximize our corporate value through the development, manufacture, and sale of compact construction machinery, which is our main business.
We have passed on our corporate policies and business philosophy as well as the basic strategies we have built up, and we will work to optimize our supply chain, from research and development to purchasing, manufacturing, sales, and after-sales service, addressing global social issues such as climate change, improving the work environment, and helping to alleviate labor shortages.
The battery-powered compact excavators that we have been developing have zero emissions and are quiet, making them friendly for the environment and the workplace. Therefore, we anticipate them being used in residential areas, underground, and indoors. We will also keep working to improve the environmental performance of our conventional diesel engine compact excavators until battery-powered versions gain widespread acceptance.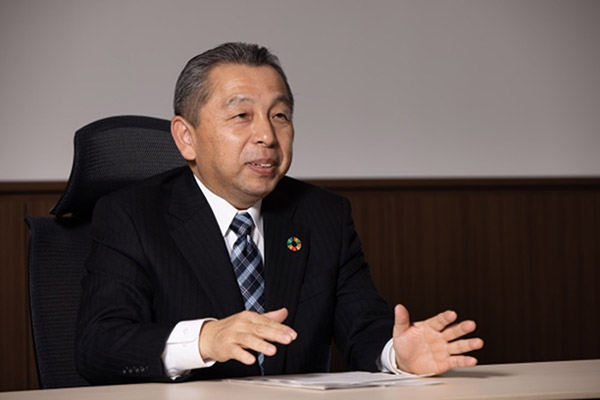 The Takeuchi Group recognizes that human resources are our greatest management resource. We will therefore focus on workplace safety above all and on creating a secure and comfortable work environment so that every employee can enthusiastically play an active role. Currently, the percentage of females among our directors, managers, and general employees is low, and we plan to correct the imbalance between males and females over the medium to long term.
To help create a circular economy, we are also focusing on products that can be recycled. Instead of using a lot of plastic as a raw material for our construction machinery, we design with an emphasis on metals for durability and ease of recycling. In the future, we will incorporate into our products environmentally friendly materials, such as plastics and oils that easily decompose in nature.
Further growth
The construction machinery market is entering a period of transformation, including automation and electrification. We will work on our own product development ahead of market trends. Further, we fully recognize that to achieve the Group's sustainable growth we need to strengthen nonfinancial initiatives, such as ESG (environmental, social, and governance), rather than merely chasing financial growth, such as sales and profits. Taking the resolution of social issues, such as the SDGs, as the foundation of management, we are committed to understanding what our stakeholders expect from us by listening to customers, business partners, shareholders, local communities, and employees, and we will share our management vision with them.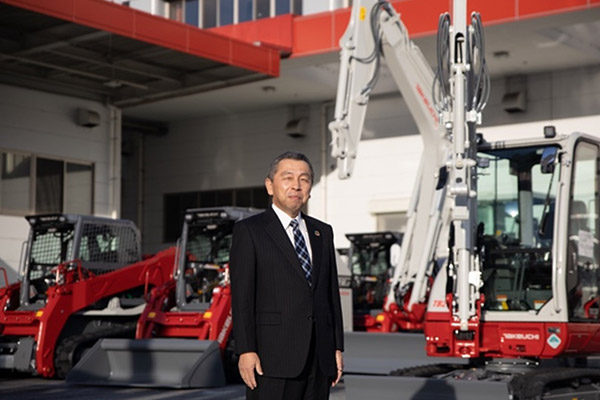 I inherited the spirit of Creation, Challenge, and Cooperation from the former president, and I am convinced that this spirit has enabled us to pioneer and create the compact excavator market and to win the market's trust. Included within our sense of self-discipline, I tell employees, "Try not to be content with past successes and always try to be a challenger."
We are facing difficult times with an uncertain and unclear business outlook for the global economy and exchange rates, including the economic stagnation caused by the COVID-19 pandemic. However, everyone in the Takeuchi Group will work together as one to take up the challenge of innovation without fear of failure, moving forward in the spirit of Creation, Challenge, and Cooperation.